Global Learning Program ePortfolios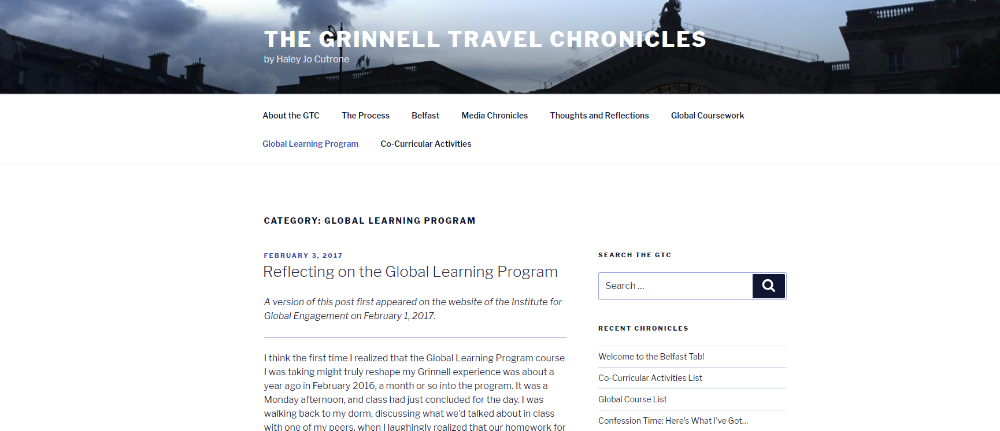 Global learning program participants attend a workshop on how to build an ePortfolio. An ePortfolio is an online domain that captures and displays a record of academic growth—a space where you have tracked global engagement and depth of understanding in a chronicled and visual way. You are encouraged to maintain this dynamically throughout your academic years. It is here that you might demonstrate achievement of the following:
1) Global Coursework: Demonstrate that you are equipped to work abroad with sensitivity and nuance by listing and reflecting upon completed coursework that has a global element. A record of this coursework can be through artefacts or reflections for each course on the ePortfolio. This coursework from Grinnell College or transferred (off-campus study) should have content that has the following goals in mind and has helped the student to understand:
a place, region, or ecosystem outside of your home country;
global processes or systems that connect different places in the world;
attitudes toward opposing views of a topic, practice, custom, or historical debate;
the relationship between your home country and other places in the world;
and how to navigate societies, work in cultures, and speak languages other than your own.

2) Experiential learning outside of your home country: This could be a study abroad experience, a global internship, an externship program with a global dimension through the Center for Careers, Life, and Service, undertaking international research, or a service opportunity abroad.
3) Co-curricular activities: Document the time that you spend of in-depth, committed participation in co-curricular activities that have a global focus, such as international clubs, events, lectures, OISA programs, etc. The focus should be on quality of participation over quantity.
If you are interested in setting up a free WordPress site for your ePortfolio, please contact Susie Duke (dukesus@grinnell.edu).
Some examples of previous Global Learning participants: