Advising on Campus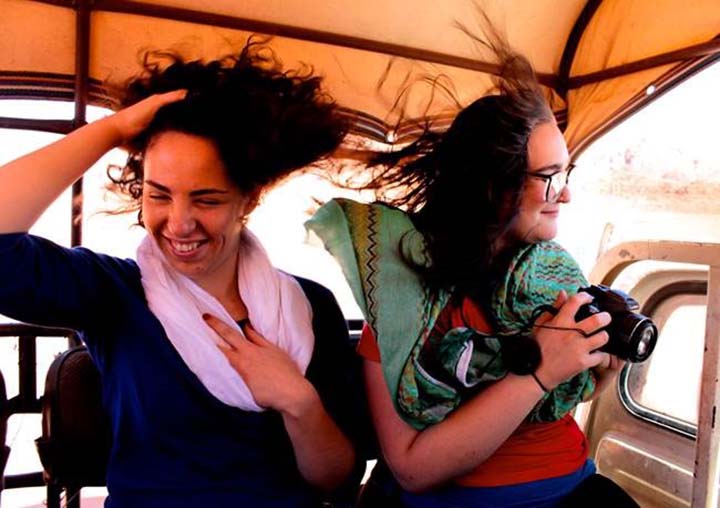 photo by Holly Walter '18

Students are strongly encouraged to begin exploring Off-Campus Study programs during their first year. Some programs have language requirements or other pre-requisites and exploring options early opens up the widest range of possibilities. An annual Global Opportunities Fair is held each fall, and is a great opportunity to meet with program representatives and learn about Grinnell-sponsored global engagement opportunities including OCS but also the Institute for Global Engagement's Global Learning Program, course-embedded travel, and grants for international internships, research, and intensive language programs.

Below you will find resources to help you identify a program that is the best match for your academic objectives and your other global learning goals. Each resource offers helpful and different perspectives and considerations. In addition to the resources here, you will also want to check out the OCS 101 guide.
Off-Campus Study Staff
OCS advisers are happy to assist you before, during, and after your OCS experience. Broad staff knowledge of considerations and the range of programs available can help you make sense of options in a way that complements other advising resources. OCS advisers can also suggest programs you may not have considered.

Academic Advisers
Talk with your academic adviser(s) about your academic interests and how potential OCS courses will fit into your four-year plan to ensure that you graduate within four years. Discuss any prerequisites you might need for your desired program or to complete your major(s). If you have not declared, seek advice from a professor within your intended major department. Determine whether you have an academic impediment to studying off campus during a particular semester to completing one or more of the following: your major (declared or intended), a concentration, a set of courses in sequence or the prerequisites of your OCS program.
Campus Program Advisers
Each featured OCS program has been assigned to one or more Campus Program Adviser(s), either a Grinnell College faculty member or an OCS adviser listed in the Fact Sheet portion of its brochure in the application portal. Campus Program Advisers are prepared to speak to how a certain program and/or location can support academic goals and other global learning objectives.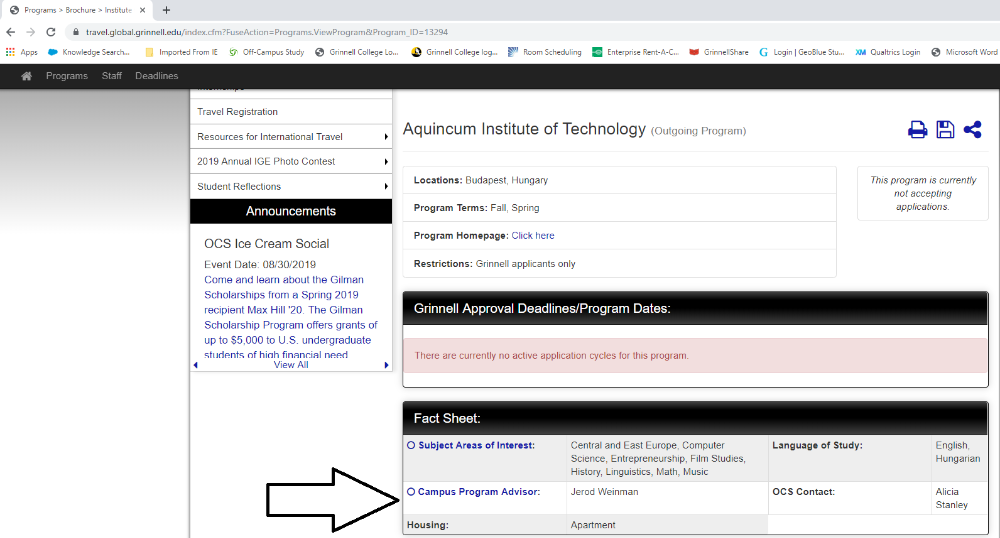 Peer Advisers
The Institute for Global Engagement hires several Global Envoy peer advisers to provide general advice and mentoring for prospective and outbound students. In addition, Grinnell students return from studying off campus each semester. Talking with returned students about what they learned on their programs, what they liked about them, how they grew as people, and what they wish they had asked or known before participating is essential to making an informed decision. Lists of past participants are available on Off-Campus Study's page on GrinnellShare.
Program Representatives
Most programs are offered in cooperation with other colleges, universities, and program providers. Program representatives are available to answer questions, particularly about details such as housing, internships, and co-curricular activities. Many programs also host information sessions and promotional tabling on campus in the fall and spring semesters. Look for notices and emails about these sessions.
Financial Aid Counseling
Financial Aid can be applied to approved Off-Campus Study programs.
Tuition and Aid
provides a general overview of billing and deposits including a detailed program cost spreadsheet and aid policies. Students interested in better understanding the cost of studying off campus on certain programs are encouraged to reach out to their primary financial aid counselor or email finaid@grinnell.edu.
International Grinnellians
Grinnell College enrolls students from 50± nations; we employ staff and faculty with extensive travel experience; and Grinnell alum live and work around the globe. International Grinnellians can offer valuable insights and information to help you consider options and make connections when you study off campus. Potential resources to help you tap into this network include the
Office of International Student Affairs
; Alumni Relations (
Grinnell Connect
); and the
Center for Careers, Life & Service
.