Global Learning Program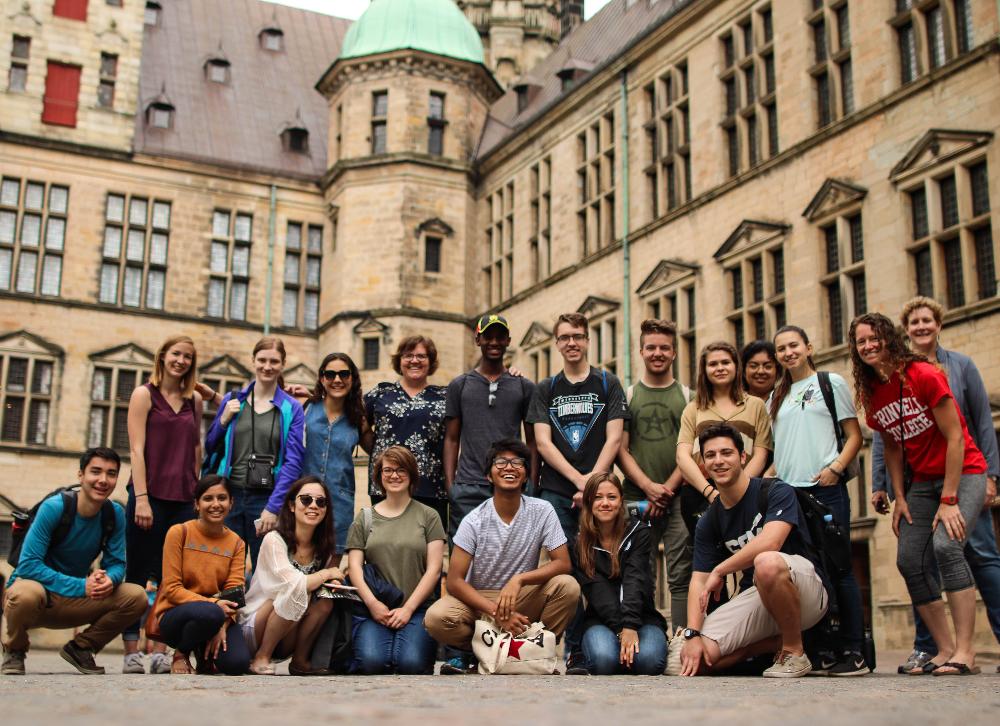 Summer 2018 GLP group at Kronburg Castle in Copenhagen.
The Global Learning Program (GLP) runs two types of program during the Spring semester. Tutorials are for first-year students and the GLP Second-Year Seminar is for second-year students. Both explore specific themes on global issues. Courses are interdisciplinary and taught by a pair of Grinnell faculty. Travel takes place during a period of academic recess such as Spring Break and/or in May after the spring semester ends. These global experiences are typically in two or more countries, regions, or ecosystems and total more than 3 weeks!
Program Details:
Cost – A $400 participation fee is charged to participant's account the month before the start of the spring semester.
Otherwise all flights, accommodations, ground transportation, visa fees (if necessary), and tours, entry fees, and course materials are covered. Most meals are also covered by the program, but you will be required to pay for at least one meal per day. Participants may want to allocate money for snacks and souvenirs, too.
Prerequisites – The first-year tutorials have no prerequisite, but the second-year seminars may include a language requirement.
Duration – The course is one semester long and the international visits total 3-4 weeks.
Time of year – The on-campus portion takes place spring semester. The travels could take place at one time in the summer or be broken into multiple segments, such as for the duration of Grinnell's two-week spring break, plus a summer portion.
On-Site Arrangements – Depending on where you are in the world, these arrangements will vary.
Accommoda
tions can include hostels, hotels, home stays, university residence halls, and apartments.

Ground transportation can be buses, trains, or taxis but a lot of the transportation is simply on foot. Pack your walking shoes!

Local visits while traveling are abundant. Outings in each location in the itinerary will be prescribed by your faculty leaders so that they complement the course theme and syllabus. You receive exposure not only to your faculty leaders' expertise, but also to the host cultures' native lecturers and experts.
Spring 2019
GLP Tutorials
Disability in Society, Art, Architecture and Activism, Instructors: Autumn Wilke, Casey Oberlin and Justin Thomas
Global Medicinal, Instructors: Carolyn Lewis and Josh Sandquist.
GLP 2nd year Seminar
Tolerance & Intolerance, Instructors: David Harrison and Dan Reynolds.
Past courses offered.
For more information, contact Susie Duke, Program Coordinator at dukesus@grinnell.edu or 641-269-4738.